Today we started our next and last attempt to see the USS Arizona Memorial. We went there by bus quite early, anyhow there were already a lot of people. We got a ticket for the ship tour to the memorial, but we had to wait more than two hours! Because we already saw the museum, we had to find an alternative to kill the time...
We got a tipp to go to a stadium near to the memorial...
We did not exactly know where we were going but it was very nice. Around the stadium were little souvenir shops... it was easy to spend there our time...
It was very crowded - a lot of tourists everywhere and it was very easy to get lost there...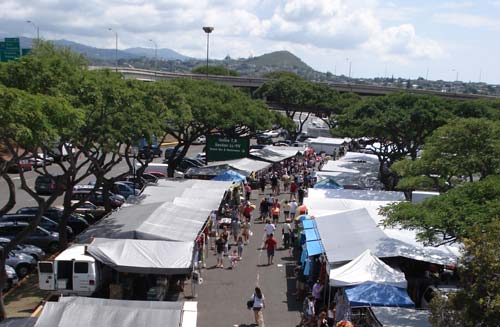 ... fortunately we both knew when we had to be back to the memorial for our shipt tour... We were very relieved as we saw each other...
Our memorial tour started with a film about the happening on the 7th of December 1941 in Pearl Harbor. The film was very impressive. After the film we could go on board of a ship which brought us to the memorial. It must have been about 80 people on this ship...
... I was very curious about the feelings I would get in this memorial and frankly I was a little disappointed.... the film impressed me more than the visit to the memoral. Of course it was unusal and interesing to see the battleship just a few meters under ground, but with all the tourists around you and the noise (speaking, laughter... mobile phones)  it was hard to commomerate... I don't like when people only visite places to cross out another thing on their Things-you-have-to-see-in-Hawaii TODO List...
After the tour to the memorial we ate something there and took pictures with me and my new dreamcar (cabrio remains cabrio!).
A man or boy (something between) who worked there asked us how we will get back to Waikiki and he offered us to drive back with him and his friends after his work.
We did not have to wait a long time and we were a lot faster with the car and it was funny - nice speaking exercise
. They suggested to go to a Greek restaurant tomorrow... I don't know if we will go, they were not very interesting, but it would be a good preparation for our speaking test... We will see...
In the evening we went to the Ala Moana shopping center and we bought some souvenirs...
.