Something is changing. It's in the air. It's strange, I can't descripe what it is... Everything is drawing to a close... 2 Months ago nobody knew anybody and everybody had to find his place, his function in the group, had to arrange with each other and now it would work. But in a few day everybody will go in another direction. Most of the students will go home, some will go to the Mainland or Australia, a few will stay in Hawaii for some more days. I don't know if this is what I feel or if it is the pressure of the test that we can feel more and more... Maybe I'm a little too sensitive at the moment because I heard a lot of bad (and very personal) news from friends in Switzerland (everyday more). What's wrong?

Well, this was a little abstract of my thoughts...

... let's talk about (let me tell you) what I did this evening.
Firstly I went with Eva to a beach BBQ with some other students. Most of the students were Swiss and again, nobody spoke English there, so we decided to go to another place. Today I talked to a Swiss student about languages. And I said to her quite directly that I find it very disrespectful to speak in Swiss German if there are students around who don't speak our language (I was talking about Eva...). In my opinion, if you are in a group and there is just one who doesn't speak the language then everybody has to adapt his speech. No, it is not just my opinion - I thought until today that this is a matter of course. But she ansered me, that in her opinion in this situation you just have to speak in English if you speak directly to the person who doesn't speak Swiss German (in fact - this means never...). This is against my sense of justice... However, Eva and I had a nice evening.

First we were walking next to the beach...




It was a beautiful night. I like this holiday atmosphere, the lights next to the beach, the restaurants, the music from different restaurants that you hear from time to time, sand under your feet, the sound of the ocean, the careless laughing of someone who cross you... countless little things...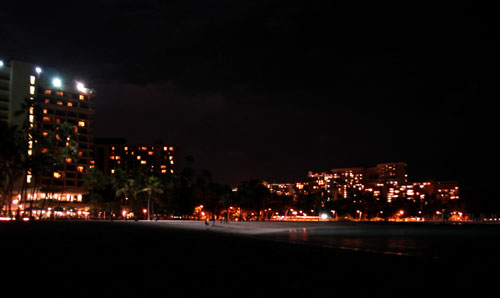 Then we went to eat in a nice restaurant and we talked a lot about our life, about everything...
And we drunk something...




... and this is now my new favorite drink: Lava Flow - undescribable
.